The Book
Rules of Engagement: Making Connections Last by master networker Dr. Froswa Booker-Drew shares her experiences of building lasting personal and professional relationships with others. In this book published by Austin Brothers Publishing, Booker-Drew explores how many businesswomen and mothers don't believe they have the time or energy to find and develop new relationships. Rules of Engagement: Making Connections Last is a workbook for women who understand the value of relating to others, both professionally and personally.
Helping women develop the kind of relationships that pay valuable dividends to everyone involved is the goal of Booker-Drew. Her powerful workbook will not only equip readers with the information they need, but the workbook format will walk them through the exercises to make it a reality.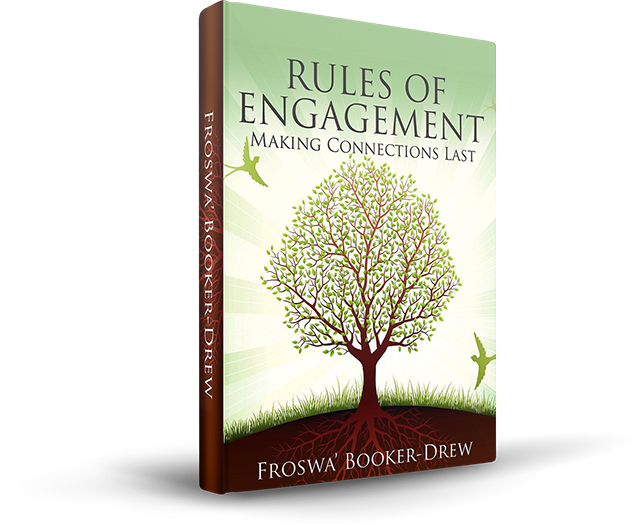 Building on her experience of leading groups of women through journeys of self-discovery and growth, Booker-Drew shares insights into how to make more effective use of their time and effort in order to assemble a stronger network of people around them. She writes, As women, we spend so much time helping others create their stories that we do not take time to reflect on our own stories. We keep moving and moving, failing to see the lessons learned that resulted in our growth. We so often focus on the hurt, that we seldom witness the amount of healing. Those elements are all a part of reflecting and revisiting the story of our lives.
Booker-Drew continues, There are no right or wrong answers. But this workbook offers an opportunity to take an inventory of where you have been, where you want to go, and evaluate the gaps that exist between the two. In doing so, you will be more authentic and create more relationships that are transparent and transformational.